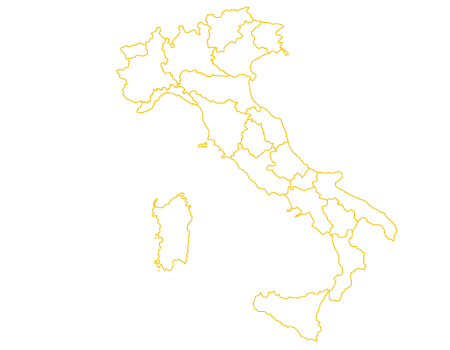 Friuli Venezia Giulia
Macross

Constitution Year: 2009
Person in charge: mpo Dall'Orto
www.macross.it

Macross was born with the main aim of developing professionalities and methods in urban decor interventions, in order to valorise urban spaces and to open a fruitful dialogue between cities and communities. Their artists act since 1997 along a path of legality and institutional dialogue. The Association has also a deep experience in organising social and artistic events, mostly by the "Scimmie in Gabbia" festival.

The Macross Association projects and implements public art works and events, manages social-oriented activities, without forgetting education and training. Its interventions have cultural goals, promoting artistic sensitivities amongst the younger ones, opening the audience to new art and expression forms, developing the underground creative network.

In Friuli-Venezia Giulia, Macross is a "frontier" reality, since it features a continuous artistic exchange, also on the cultural and linguistic sides. International contacts and initiatives, first and foremost in Middle Europe, mirror the Association's skills in creating over-the border productive relationships. Its firm will to get rid of the rigid conceptions of "borders" aims at developing the more social aspect of the new art forms, slowly but surely overcoming the old ideologies of clash and division.

In 2010, Macross started the "Circuito Artistico Internazionale Euromonkey", an international artistic residence projects. Up to now, this project can count on six performances/journeys involving painting and music by several European teams of artists, in several cultural capitals of Europe.

Melart

Constitution Year: 2009
Person in charge: Federico Duse
ass.melart@hotmail.it

Founded as an artistic collective in the district ATER Rozzol Melara of Trieste, where the street subculture and graffiti in particular have always been very prosperous than the rest of the city, Melart becomes Association in 2009, aiming to be a territorial cultural and artistic landmark.
Its main operational framework is R.A.S.C. (Built Area Artistic Redevelopment), first project of decorating urban spaces, divided into a series of paintings.
The goals that the association intends to pursue are research, study and dissemination of artistic traditions, the promotion of relations and exchanges between different cultures of Europe and other continents, organizing exhibitions, competitions and other artistic activities.
Melart also aims to promote research and analysis about local culture, art, architecture and city planning, with particular interest in urban creativity.

Bravi Ragazzi

Constitution Year: 2005
Person in charge: Francesco Patat
www.elementisotterranei.net

The ACU Bravi Ragazzi promotes graffiti-writing and street art as tools for connecting people and the land.
It works to understand and appreciate the value of a form of expression often confused with juvenile vandalism; to disseminate the techniques of urban art and culture; to promote cooperation between the artists in theexecution of the works, in order to obtain a result of high quality that encourages the exchange of points of view.
Since 2006, annually it organizes the International Festival of Arts Urban "Elementi Sotterranei", an event that is characterized by the high style of the invited artists, the collaboration between them in the realization of collective walls, the development of a theme on the walls and during the side actions, the interaction between citizens and artists.
In parallel, the ACU organizes and manages creative-relational laboratories, exhibitions, presentations in schools, exhibitions and competitions, working with a network of associations and organizations. In 2011, it recognized Social Promotion Association. It is one of the signatories of the protocol for the trans-border urban creativity programme"Scenario", promoted by ACU Macross.

Cadmio

Constitution Year: 2016
President: Fabrizio Di Luca
goo.gl/rAjQC0

Cadmio arose as an association from the common desire of its founding members to promote street art as an art form and as a tool to restore declining urban areas.
Furthermore, this association intends to be a contact point between cities and their citizens, actively involving the latter in sharing common spaces.
This will enhance the social and cultural awareness about street art.
This association promotes legal graffiti, organizing painting courses involving the main institutions and policymakers as well, therefore promoting the better ways to express everyone's creativity, while respecting common spaces. This association does also organize art events, live painting exhibitions, workshops and pageants focused on enhancing art-related education for everyone.