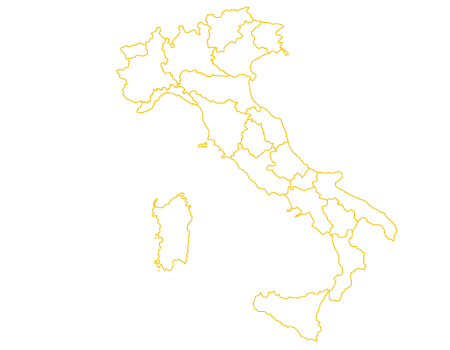 Abruzzo
Friends

Constitution Year: 2009
President: Antonello Piccinino
www.myspace.com/associazionefriends

Following the terrible quake of April 6, 2009, the writers of Abruzzo felt the need to join forces in the UCA called Friends.
This UCA was then born in the name of friendship and of the strong capacity within the name. Friends may also sound like Free Hands and full-fledged creatività.
In this UCA's logo there's the basic concept of this brand new regionwide union of young urban creatives: two hands meeting, ready to shake each other, suggesting the profile of an eagle, having the institutional colours of the Abruzzo Region. In its middle, the agle is red, as these friends' passion for art, symbolyzing a Phoenix as well, reborn after a tragedy.
Friends is active in all the provinces of the Abruzzo Region, by means of projects based on writing and urban creativity, joining them with contiguous fields such as comics, design, illustration and graphics.
Some of its components are active since a long time, representing Abruzzese culture abroad as well, both taking part in important events and publishing on the best rewievs. The pain and despair after the quake is leaving room for friendship and hope in the name of shared urban creatività.

CH'art

Constitution Year: 2011
Person in charge: Emiliano Romano
ass.chart@gmail.com

CH'art brings together approximately 20 artists of Chieti from different contemporary currents, graffiti and street art.
Most of them have already contributed more times to local urban creativity (Open Factories, 2007 - Decorating Bridge Pylons, 2010).
The idea of founding an association was born from the desire to have walls on which to express themselves. For this reason, began a collaboration with the Common of Chieti, which has provided several walls in town, some for themed decorations, other for simple exercises.
The project CH'art has as main purpose to enhance the degraded areas of the city with urban art.
Also CH'art wants to involve more young people, inviting them to paint freely and with mutual respect and for control bodies, increasing this art form.