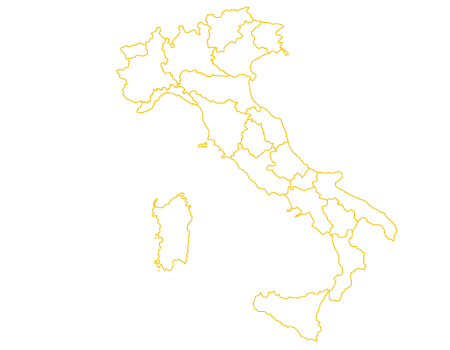 Piedmont
Associazione Culturale Il Cerchio e le Gocce

Constitution Year: 2001
Person in charge: Riccardo Lanfranco
www.ilcerchioelegocce.com

Il Cerchio e le Gocce is one of the first examples of an association born with the specific goal of promoting urban culture. By means of the support of the Youth sector of the Municipality of Turin, some of the boys responsible for the "Murarte" project, which was the first Italian example of legal wall usage, made a great step towards something unique and very significant for their artistic lives.
Projects such as "Street Attitudes", an international graffiti convention, then the publication "Murarte: interventi di estetica urbana", the decoration of the Turin Olympic Committee for the 2006 Winter Olympics, of the Moncalieri (near Turin) train station, of the Politecnico University in Turin, the exhibits of artists such as Blu, Run, and of the Rebel Ink artistic collective and initiatives such as "Segni d'Europa" or "U.R.C.A.", itself the first instance of a common project involving many Turinese realities, or the painting and decoration course implemented within the Casa Arcobaleno of the Turin jail are just a few of the many activities we undertake.
This long path allowed the Association member to develop specific professional skills in several fields, until then confined to underground circuits, making to their territory a gift thousands of square meters of renovated walls, turning them into real open-air works of art.

Ours is a constant and multimedia-based research aimed at developing urban creativity in every form, because having public spaces at one's disposal is synonymous with freedom of expression, driving everyone towards an aware valorisation of the places they're in.

APS Monkeys Evolution

Constitution Year: 2004
Person in charge: Emanuela Corso
www.monkeysevolution.org

APS Monkeys Evolution is a social promotion association made up of writers and carrying out art-writing- and digital graphics-related activities.
The use of artistic languages connected to works of urban renewal, the creation and implementation of social workshops open to the citizens, all working towards growing social aggregation, are the main tools by means of which the Association chooses to divulge and share a metropolitan artistic culture, connaturally akin to the cities we live in.
And is precisely by means of urban renewal that the Association intends to make the art, with its manifold paths and forms, and the city, with its grey zones, whom offer a haven to many citizens.

The surfaces of our city become a space for reflection about new paths, but they may also become frameworks in which the story of those landscapes may be told.
Monkeys Evolution was founded in 2004 by four friends, all of them artists with a passion for graffiti and writing, Ruben Marchisio, Bernardo Scursatone, Lorenzo Vitari and Paolo Gambertoglio. In a few years, the group has grown, counting, in 2009, 11 full-fledged members.

Style Orange

Constitution Year: 2006
Person in charge: Giuseppe Di Biccari
www.styleorange.org

Styleorange was born on April 20, 2006 and aimed at building a research group to be used as a common ground for artists to enhance dialogue, all the while following its mission to spread the creed of the contemporary artistic tendencies, namely "writing" (streetart, aerosolart). The municipality of Turin and other municipalities in Piedmont are amongst the policymakers which cooperated with Styleorange.
Our strong points are:

Promoting intercultural dialogue;
Promoting creativity, disseminating work of arts, supporting free movement of artists and free thinking in general;
Valorising intercultural dialogue and exchange between European and non-European cultures;
Improving access and participation to culture.

To reach these goals, we use the following tools:

Painting exhibtions, interactively organized nationwide in cooperation with several artists;
Management and implementation of meetings between different cultures/civilisations;
Taking part in cultural initiatives and pageants;
Publishing of books and catalogues;
Charity auctions of exhibited works/artistic events;
Workshops and "writing" courses;
Exporting our projects in other countries and/or cultural fields.