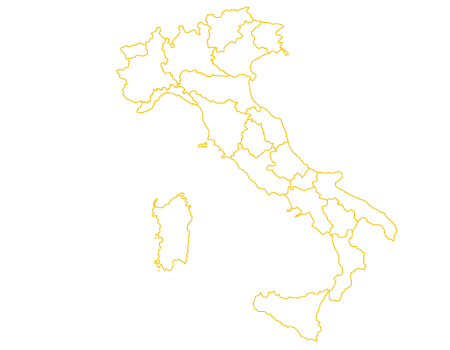 Tuscany
A3D – Associazione 3D

Constitution Year: 2008
Appointee: Niccolò Giannini
www.myspace.com/writing_pontedera

The story of Associazione 3D is a backward story, as "A3D" was born after six years of work on the Spray Art Convention festival, itself, like this UCA, an anomalous history.

The Spray Art Convention was born in 2004 as an educational project, proposing mediation between street culture, institutions, policymakers and cities. Following the meeting between a group of educators and some breakers and writers, the idea of creating a festival was born, able to focus and show the potential of those youth interested in street culture, giving some rules to a newborn social movement, but already able to make itself heard.

Therefore, the first act of this festival has been to sign an agreement protocol between the Municipality of Pontedera, the Centro Giovanile Terza Dimensione and some local writers.

From there, this project went on, keeping its anomalous, unique features who allowed a small town like Pontedera, famous worldwide for Piaggio motorcycles, to host the best names of breakers and writers, like Loomit, Belin, Focuz, Ata, to name just a few.

Our Association was established as a natural consequence of this path, a "spin off" of this festival, favoured by the growing number of cooperation and by the cooperation network built along the Spray Art Convention and EDF crew, still managing the event.

Being longtime promoters of street art, we think that the most still has to be done on the matter.

Artefacto

Constitution Year: 2005
Person in charge: Marco Milaneschi
www.associazione-artefacto.org

The artistic and cultural association Artefacto was born of the concrete need to build a bridge between culture and youth, from the privileged viewpoint of art, always concerned with social situations and cultural and ethnic differences.

Therefore, its components' experience in the world of Writing and in the world of "spray paint" becomes an important tool in developing artistic projects that might be adapted to several artistic and social tendencies.

Calling on our strong motives, we believe in the importance of a strong network of cooperation between young-oriented associations, institutions and policymakers, in order to guarantee the birth and the expansion of a strong cultural reality, tied to our land's art and tradition.

Artefacto has as its main aim to manage and implement pictorial events within wider initiatives, focusing on projecting and realizing wide painted surfaces.

These projects can be implemented in a few days and are able to express the theme of the events, offering the opportunity to develop the event live ("LivePainting"), creating a good show and great interest for the audiences.

The scenografic and communicational function is greatly facilitated and enhanced by Artefacto's artitisc tools, able to perfectly integrate with the needs of the youth.

EDF Crew

Constitution Year: 2003
President: Nico Lopez Bruchi
www.edfcrew.com/

This group was born in 2003 in Pontedera, Pisa, Italy, together with the Spray Art Convention, one of the main urban creativity events of the time, who succeeded in hosting more than 400 artists from all over Europe during 7 editions of this Convention. Even today, this event remains one of the cornerstones for urban requalification projects in cooperation with Italian Municipalities and regional authorities.

The crew grew up while developing a research path within Urban Art towards Interior Design and visual communications, later on shifting almost completely on developing the social aspects of public art. In 2017 they created the Manifesto of Social Art, a declaration of intent and a set of conceptual guidelines to be applied in their activities towards the creation of value, beauty, solidarity and humanity.

The members of EDF Crew (six artists from different generations, a videomaker and a female curator) do away with their personal "ego" and achieve a shared artistic experience. This allowed them to set up, paint and care for huge mural paintings, themselves painted on behalf of schools (they are the current record holders for the bigger mural ever painted on a school wall), Municipalities, Regions, Associations against Mafia (they are honorary citizens of Corleone in Sicily after they carried out the Colorando il Buio, Colouring Darkness, urban requalification project there), Social Cooperatives, Immigration Centers, asylums, jails, parks, chreces, discotheques and private spaces.

The murals the EDF Crew paints are known for their attention to detail, their significant conceptual and social contents, themselves always positive and encouraging. Nowadays, EDF is also an association promoting the culture of social art, carrying out interventions and events within the world of creative expression.